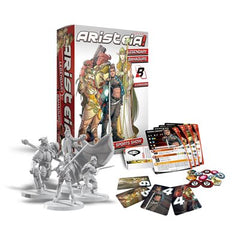 Aristeia Legendary Bahadurs
Product is currently unavailable. Please email us @ info[at]woodforsheep.ca with Subject: ORDER Aristeia Legendary Bahadurs and we will notify you once this item becomes available. Request Deposit required.
Ages: 14+
Players: 2
Playing Time: 60-90 minutes
Designer: Alberto Abal, Jesús Fuster, David Rosillo
Publisher: Corvus Belli
Requires: Aristeia
The champions in Aristeia! get the title of Bahadur. The famous commentator of Vissiorama and five time Bahadur, Final Boss, has decided to return to the top competition by gathering a team of old Aristo teammates.
Combat | Expansion | Resource Management | Sci-fi | Sport | Variable Player Abilities