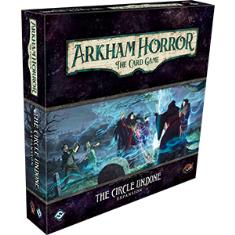 Arkham Horror Card Game Circle Undone
Ages: 14+
Players: 1-4
Playing Time: 60-120 minutes
Designer: Nate French, Matthew Newman
Publisher: Fantasy Flight Games
Requires: Arkham Horror Card Game
"Behind everything crouched the brooding, festering horror of the ancient town, and of the mouldy, unhallowed garret gable where he wrote and studied…" -H. P. Lovecraft, "The Dreams in the Witch House"
Judgement. Temperance. Justice. The Tower.
The soothsayer's tarot wove a tale of a grim future, hard to put out of your mind. But when you learn that four people have disappeared without a trace from an estate in French Hill, you begin to wonder if this cruel fate is meant only for you, or for the entirety of Arkham…
Your team of investigators delve into the mysteries of Arkham's past, uncovering its macabre history and the motives of those who dwell in its shadows. This expansion contains a playable prologue, first two scenarios of the campaign, as well as new investigator and player cards to further customize your investigations in the world of H. P. Lovecraft's Mythos.
Arkham Horror LCG | Cooperative | Expansion | Horror | Variable Player Abilities