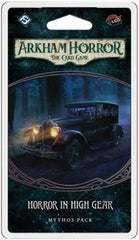 Arkham Horror Card Game Horror in High Gear
Ages: 14+
Players: 1-4
Playing Time: 60-120 minutes
Designer: Nate French, Matthew Newman
Publisher: Fantasy Flight Games
Requires: Arkham Horror Card Game AND
Arkham Horror Card Game Innsmouth Conspiracy
Innsmouth is overrun! You and Agent Harper just barely escaped from the coastal fishing hamlet, and now, you're driving quickly toward Falcon Point Lighthouse—where you hope you can draw more connections between the shattered pieces of your memory. You've only been on the road for mere moments, however, before you catch sight of headlights in your rearview mirror. You're not alone on these desolate, winding roads—and it's a high-speed chase to the finish!
Strap in for a breakneck race to the finish with the Esoteric Order of Dagon in hot pursuit! Vehicles surge to the forefront in this expansion as you drive your cars along the winding cliffside roads outside of Innsmouth. Alongside this unique scenario, you'll find a full assortment of player cards for every aspect, unlocking new skills, allies, and more.
This is the third Mythos Pack in Innsmouth Conspiracy cycle.
Arkham Horror LCG | Cooperative | Expansion | Horror | Variable Player Abilities