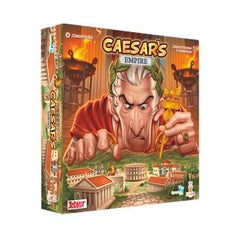 Caesar's Empire
Product is currently unavailable. Please email us @ info[at]woodforsheep.ca with Subject: ORDER Caesar's Empire and we will notify you once this item becomes available. Request Deposit required.
Ages: 10+
Players: 2-5
Playing Time: 30-60 minutes
Designer: Matthieu Podevin
Publisher: Holy Grail Games
You will be building Roads to connect Rome to new Cities across the board. Each time you build a Road, you score points. Every new City you reach will provide City and Treasure tokens that will be worth points at the end of the game. The game ends when Rome is connected to every City on the board. After adding the value of City and Treasure tokens to the points scored during the game, the player with the most points wins!
Network Building | Resource Management | Set Collection | Spin-off