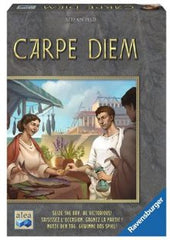 Carpe Diem
Ages: 10+
Players: 2-4
Playing Time: 45-75 minutes
Designer: Stefan Feld
Publisher: Ravensburger
As influential patricians, you have begun to improve neighborhoods in your city. Large buildings and beautiful landscapes will ensure the prosperity of your own neighborhood.
Follow the motto "carpe diem" and enter the right time to harvest and fish, then sell these goods to the market to earn a maximum of gold.
Build homes for your servants: they will be more diligent and more productive. And do not forget your own villa! It will bring you a lot of prestige.
Tower after turn, you will get different Building tiles and add them to your neighborhood to build more and more buildings and landscapes.
After each phase of the game, your achievements will be converted into victory points.
The player with the most victory points at the end of the game will win.
City Building | Draft | Kennerspiel des Jahres Nominee | Tiles