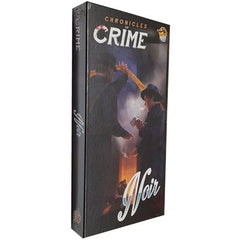 Chronicles of Crime Noir
Product is currently unavailable. Please email us @ info[at]woodforsheep.ca with Subject: ORDER Chronicles of Crime Noir and we will notify you once this item becomes available. Request Deposit required.
Ages: 14+
Players: 1-4
Playing Time: 60-90 minutes
Designer: Stéphane Anquetil, David Cicurel
Publisher: Lucky Duck Games
Requires: Chronicles of Crime
Instead of the traditional Forensic Contacts, players instead have 4 action cards they can use at any point and any moment: Spy, Break-In, Bribe and Intimidate.
You won't be able to intimidate everyone without repercussions, and your money is in short supply, so you can't bribe everyone you meet.
Cooperative | Crime | Deduction | Expansion | Investigation | Story Telling | Variable Player Abilities