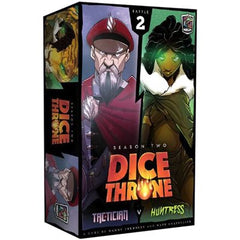 Dice Throne Season Two Tactician V Huntress
Ages: 8+
Players: 2
Playing Time: 20-40 minutes
Designer: Nate Chatellier, Manny Trembley
Publisher: Roxley Game Laboratory
A game of intriguing dice, tactical card play, powerful heroes, and unique abilities.
A heart pumping, fast playing game of skillful card play & dice manipulation that will have your game nights cheering!
Stand-alone & cross-compatible: this is a complete game! The heroes in this box are compatible with all other Dice Throne heroes. Additional heroes required to play with more than 2 players.