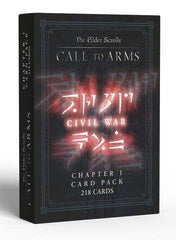 Elder Scrolls Call to Arms Civil War
Product is currently unavailable. Please email us @ info[at]woodforsheep.ca with Subject: ORDER Elder Scrolls Call to Arms Civil War and we will notify you once this item becomes available. Request Deposit required.
Ages: 14+
Players: 1-2
Playing Time: 60-120 minutes
Designer: Mark Latham
Publisher: Modiphius Entertainment
Requires: Elder Scrolls Call to Arms
Includes cards for Imperial and Stormcloak soldiers, plus additional adventurers and Adversaries such as Draugr and Skeletons. Additional Battle Mode and Delve Quests, Traps and Events expand the narrative adventure game. Equip your heroes with new weapons, spells, armor and enchantments to overcome the dangers of Skyrim.
Bundle | Cooperative | Expansion | Fantasy | Scenarios | Spin-off