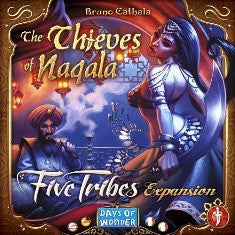 Five Tribes Thieves of Naqala
Product is currently unavailable. Please email us @ info[at]woodforsheep.ca with Subject: ORDER Five Tribes Thieves of Naqala and we will notify you once this item becomes available. Request Deposit required.
Ages: 13+
Players: 2-4
Playing Time: 60 minutes
Designer: Bruno Cathala
Publisher: Days of Wonder
Requires: Five Tribes
Naqala is now a prosperous place. Gaining the favors of the different tribes was not easy, and your rivals have not been discouraged by your success. In fact, some tribes have now abandoned your cause and rallied to your rivals instead, and you'll soon discover that these tribes follow influential leaders that your rivals hired against you. Every man has his price, though, so perhaps you can return the favor to your rivals — should you have what it takes to recruit the thieves of Naqala.