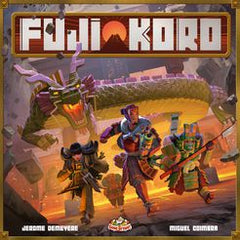 Fuji Koro {C}
Ages: 12+
Players: 1-6
Playing Time: 60-120 minutes
Designer: Jerome Demeyere
Publisher: Game Brewer
Mount Fuji is on the verge of erupting. Red hot lava will soon consume the three secret Seien-ji, sacred temples hidden deep in the bowels of the volcano. The Shōgun is determined to preserve the precious heritage and sends his most noble and gifted samurai warriors on a quest inside the volcano to retrieve the valuable goods.
After a grueling climb through snowstorms and treacherous rocky terrain the samurai find the entrance that leads down into the cavern.
The volcano rumbles and the walls start shaking! The floor underneath their feet crumbles and our brave samurai fall into the huge cavern that contains the three temples, which are slowly sinking into the smoldering lava.
It is now up to our heroes to explore the cavern and find as many of the relics, sacred scrolls, and monks as possible, to bring back safely to the Shogun before the volcano erupts and all is lost forever.
Adventure | Combat | Cooperative Mode | Exploration | Feudal Japan | Modular Board | Tiles | Variable Player Abilities