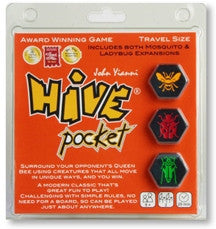 Hive Pocket
Product is currently unavailable. Please email us @ info[at]woodforsheep.ca with Subject: ORDER Hive Pocket and we will notify you once this item becomes available. Request Deposit required.
Ages: 9+
Players: 2
Playing Time: 20 minutes
Designer: John Yianni
Publisher: Gen 42
The very same wonderful game we all love, but in a compact version. With all its pieces in a portable small cloth bag, this game can provide fun just about anywhere!
The object is to surround your opponent's queen bee while trying to block your opponent from doing the same. Each player has 13 tiles; representing different insects. Each insect has a unique way of moving (as in chess) and resembles the movement of the insect depicted on the tile.