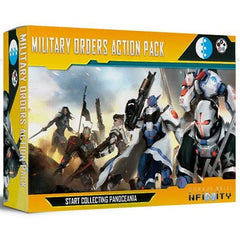 Infinity Military Orders Action Pack
Product is currently unavailable. Please email us @ info[at]woodforsheep.ca with Subject: ORDER Infinity Military Orders Action Pack and we will notify you once this item becomes available. Request Deposit required.
Ages: 12+
Players: 2
Playing Time: 60 minutes
Designer:
Publisher: Corvus Belli
Requires: Infinity
The Military Orders, religious groups of military character, were a phenomenon of the Middle Ages that, surprisingly, has resurfaced in the Human Sphere with a force comparable to that of its heyday. Bringing additional combat strength to the army of PanOceania and subject to PanOceanian High Command, they have some freedom of action and distinguish themselves by their assault tactics that recall those of earlier bloodier times.