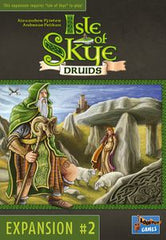 Isle of Skye Druids
Product is currently unavailable. Please email us @ info[at]woodforsheep.ca with Subject: ORDER Isle of Skye Druids and we will notify you once this item becomes available. Request Deposit required.
Ages: 8+
Players: 2-5
Playing Time: 45 minutes
Designer: Andreas Pelikan, Alexander Pfister
Publisher: Lookout Games
Requires: Isle of Skey
One cannot win the struggle for dominance over the island without powerful allies. As every wise king knows, power is not measured in strength and gold alone. Having the support of the spiritual leaders of the country can be the decisive factor. Win the druids over to your cause, and harness the power of their mystical sacred sites for your benefit!