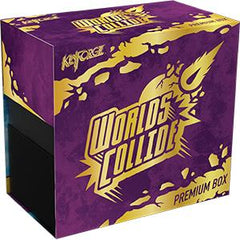 KeyForge Worlds Collide Premium Box {C}
Ages: 14+
Players: 2
Playing Time: 15-45 minutes
Designer: Richard Garfield
Publisher: Fantasy Flight Games
The Crucible is about to be shaken up!
Two brand-new Houses enter the fray as 284 new cards are seamlessly integrated into the existing card pool. With new Houses come more new keyword abilities and new styles of play to create an entirely new collection of Archon Decks for you to discover, explore, and master!
For those ready to take their battles on the Crucible to the next level, this premium box offers everything you need to keep your valued KeyForge components safe and organized. Complete with two unique Archon Decks, five tuckboxes designed for sleeved decks, a chain dial, a collection of tokens and a box to house them, and vibrant stickers to display your pride for any of the nine KeyForge Houses, you'll be ready to jump into the Crucible with style!
Combat | Fantasy Flight Games | KeyForge | Resource Management | Starter Deck | Variable Player Abilities