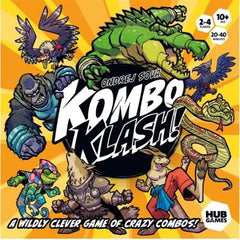 Kombo Klash {C}
Ages: 8+
Players: 2-4
Playing Time: 15-30 minutes
Designer: Ondrej Sova
Publisher: Hub Games
As another sun sets and the pale moon rises over the ancient proving grounds, the bravest and wiliest creatures gather for the Klash - the ultimate test of wits and ability!
A tactical tile laying and combo scoring game for 2-4 players. Can you master each creature's unique ability and form the craziest Kombos needed to win the game?
Score as many points as possible by the end of the game. The game ends at the end of a round in which one or more players reaches or exceeds the predetermined target score. The player with the most points at the end of that round wins.
Abstract | Animals | Area Control | Pattern Recognition | Tiles