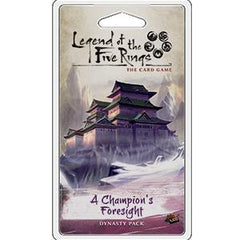 Legend of the Five Rings Champion's Foresight
Product is currently unavailable. Please email us @ info[at]woodforsheep.ca with Subject: ORDER Legend of the Five Rings Champion's Foresight and we will notify you once this item becomes available. Request Deposit required.
Ages: 14+
Players: 2
Playing Time: 45-90 minutes
Designer: Tyler Parrot
Publisher: Fantasy Flight Games
Requires: Legend of the Five Rings
The future is difficult to determine in the world of Rokugan. Few could predict the increasingly complicated political situation the Emerald Empire has become embroiled in. But there is one who claims to have forseen the path of Rokugan: the enigmatic Togashi Yokuni. The Dragon Clan Champion has glimpsed the Rising Wave, the strife coming to Rokugan. But what actions has he taken? Where has he sent the Army of the Rising Wave and what do they hope to accomplish?
The fifth Dynasty Pack of the Inheritance Cycle.
Combat | Expansion | Legend of the Five Rings | Resource Management | Variable Player Abilities