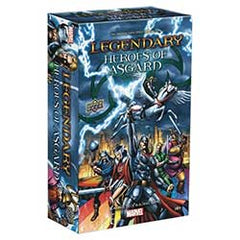 Legendary Heroes of Asgard
Product is currently unavailable. Please email us @ info[at]woodforsheep.ca with Subject: ORDER Legendary Heroes of Asgard and we will notify you once this item becomes available. Request Deposit required.
Ages: 14+
Players: 1-5
Playing Time: 45 minutes
Designer: Devin Low
Publisher: Upper Deck
Requires: Legendary
Asgard, home of the Asgardians and one of the Nine Realms is facing an ancient and awakening threat! A vengeful and nefarious mastermind, Hela, wants the throne for herself! Battling alongside Thor are some of Asgard's greatest champions! Defeating Hela will be no easy task. They will need all their strength as well as some mighty artifacts. Will you prove yourself worthy and harness the power of Thor's mighty hammer, Mjolnir or the trusty axe, Stormbreaker?
Deck Construction | Expansion | Marvel Legendary | Spin-off | Superheroes