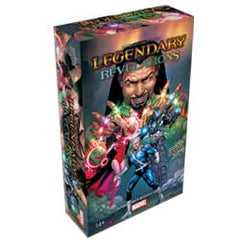 Legendary Revelations
Product is currently unavailable. Please email us @ info[at]woodforsheep.ca with Subject: ORDER Legendary Revelations and we will notify you once this item becomes available. Request Deposit required.
Ages: 14+
Players: 1-5
Playing Time: 45 minutes
Designer: Devin Low
Publisher: Upper Deck
Requires: Legendary
The long-awaited arrival of Scarlet Witch, Quicksilver and War Machine!
This deluxe expansion is packed full of content: 9 Heroes, 3 Masterminds, 2 Villain groups, 2 Henchmen groups, 4 Schemes and 3 Special Bystanders!
This latest addition is a 200 card deluxe expansion, adding some fan-favorite Avengers to the legendary list of playable heroes. But no expansion would be complete without a robust lineup of Masterminds and Villains like The Mandarin, Whiplash and The Hood! Build your deck, defeat evil and become Legendary!
Deck Construction | Expansion | Marvel Legendary | Spin-off | Superheroes