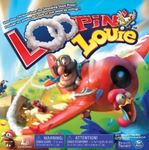 Loopin' Louie
Product is currently unavailable. Please email us @ info[at]woodforsheep.ca with Subject: ORDER Loopin' Louie and we will notify you once this item becomes available. Request Deposit required.
Ages: 4+
Players: 2-4
Playing Time: 10 minutes
Designer: Masaru Aoki, Carol Wiseley
Publisher: Spin Master
A battery-powered motor placed in the center of the table rotates a boom with a little plastic plane. Four radial arms lead out to the players' barns and the chickens they're trying to protect. Each barn has a little lever, which is used to knock the rotating plane away from your chickens and hopefully into someone else's. When only one player has chickens remaining, he or she wins the game.
Animals | Child Appropriate | Dexterity | Reaction | Survival