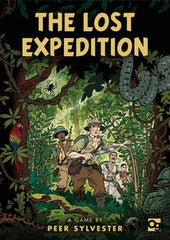 Lost Expedition
Product is currently unavailable. Please email us @ info[at]woodforsheep.ca with Subject: ORDER Lost Expedition and we will notify you once this item becomes available. Request Deposit required.
Ages: 14+
Players: 1-5
Playing Time: 30-50 minutes
Designer: Peer Sylvester
Publisher: Osprey Games
Legendary explorer Percy Fawcett marched deep into the Amazon in search of El Dorado. He was never seen again. Your team has gone in search of him, but now you hope to escape the jungle with the greatest treasure of all: your life.
Make the best of your food, your ammunition, and your health as you plunge deep into the jungle. Choose your path carefully to ensure you're ready for the pitfalls that may occur. Play solo or cooperatively to survive the expedition, or play in teams to see which group can escape the jungle first.