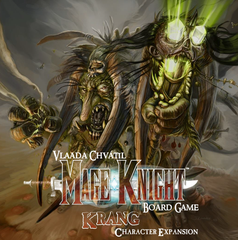 Mage Knight Krang
Product is currently unavailable. Please email us @ info[at]woodforsheep.ca with Subject: ORDER Mage Knight Krang and we will notify you once this item becomes available. Request Deposit required.
Ages: 14+
Players: 1 to 4
Playing Time: 150 - 180 minutes
Designer: Vlaada Chvatil
Publisher: Wiz Kids Games
Requires: Mage Knight
Krang is here! Let Chaos reign!
This expansion includes Krang, the mysterious and dangerous Orc Chaos Shaman, as a new playable character to the Mage Knight Board Game, including his prepainted miniature, unique starting cards, and skill tokens.
Cooperative | Dungeon Crawling | Expansion | Exploration | Fantasy | Modular Board