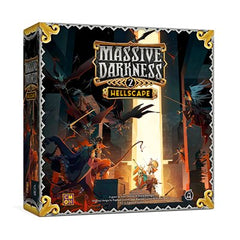 Massive Darkness 2 Hellscape
Product is currently unavailable. Please email us @ info[at]woodforsheep.ca with Subject: ORDER Massive Darkness 2 Hellscape and we will notify you once this item becomes available. Request Deposit required.
Ages: 14+
Players: 1-6
Playing Time:
Designer: Alex Olteanu, Marco Portugal
Publisher: CMON Limited
The Darkness has returned. This time, you'll have to fight the source of evil itself! Years ago, the Lightbringers defeated the Darkness. But while the Darkness may have been driven back, a new generation of Lightbringers will have to make their way into the Infernal Realm to find the source of this Darkness. Choose a quest, explore dungeons, fight monsters, gear up, and end the Darkness once and for all.
Adventure | Cooperative | Exploration | Fantasy | Modular Board | Scenarios | Solo Mode | Variable Player Abilities