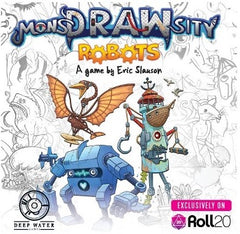 MonsDRAWsity Robots
Product is currently unavailable. Please email us @ info[at]woodforsheep.ca with Subject: ORDER MonsDRAWsity Robots and we will notify you once this item becomes available. Request Deposit required.
Ages: 8+
Players: 3-8
Playing Time: 5-30
Designer: Eric Slauson
Publisher: Bread and Circuses
Adds 50 more monsters to the game! Will you be able to memorize, describe, and draw these magnificent machines, or will your wires get crossed?