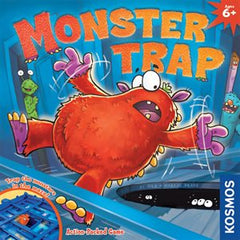 Monster Trap {C}
Ages: 6+
Players: 2-4
Playing Time: 20 minutes
Designer: Inka Brand, Markus Brand
Publisher: Thames & Kosmos
The monsters are loose again!
Well, that's actually not a bad thing because they make living in this mansion really fun! But right now Grandma Frieda is standing outside the front door and she is terribly frightened of monsters. You must catch them all and hide them from Grandma before she sees them!
Players use the sliders to push the monster as quickly as possible to the middle of the mansion and into the monster trap! You will have to work together on teams to do this: one player controls the monster's lateral movements, the other the longitudinal movements. Whoever has pushed the most monsters into the trap by the end of the game is the best monster catcher — and wins the game.