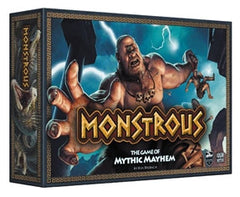 Monstrous {C}
Ages: 10+
Players: 2-8
Playing Time: 15-30 minutes
Designer: Kim Brebach
Publisher: Cool Mini or Not
The game of mythic mayhem.
Players assume the role of Greek Gods, each with a team of Monsters at their disposal. And Zeus has commanded that they battle over ancient territory.
By throwing monster cards from on high, they'll earn points, attack opponents, and control land. Monstrous is a quick dexterity game that incorporates a great deal of strategy. Players toss their monster cards to unlock monster and location powers and earn faith points.