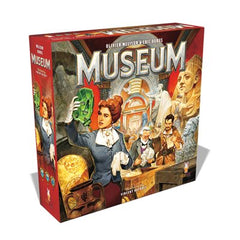 Museum
Product is currently unavailable. Please email us @ info[at]woodforsheep.ca with Subject: ORDER Museum and we will notify you once this item becomes available. Request Deposit required.
Ages: 12+
Players: 2-4
Playing Time: 30-60 minutes
Designer: Eric Dubus, Olivier Melison
Publisher: Holy Grail Games
It's the turn of the 20th century, the golden age of museums. As interest in and accessibility of museums grew exponentially, many institutions underwent an intense period of expansion on both an intellectual and physical level, searching to grow their collections for profit and science.
You play as a curator of one such museum and it's your job to build the biggest, most coherent collection that you can in this game of collection and bartering. But it's no simple task!