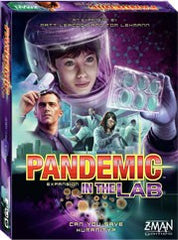 Pandemic In The Lab
Ages: 12+
Players: 1-6
Playing Time: 45 minutes
Designer: Matt Leacock
Publisher: Z-Man Games
Requires: Pandemic 2013
Behind sealed biohazard doors, scientists race against time to sequence diseases and test cures.
Take samples and develop cures in the Lab challenge
Play on your own or as rival teams (for 4 or 6 players)
Extend the On the Brink challenges with new Virulent Strain Events or the Worldwide
Panic Mutation scenario.

CAN YOUR TEAM WORK TOGETHER IN THE LAB TO SAVE HUMANITY?
Cooperative | Expansion | Pandemic | Variable Player Abilities