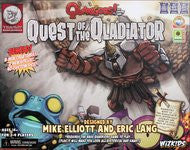 Quarriors Quest of the Qladiator
Ages: 14+
Players: 2-4
Playing Time: 30 minutes
Designer: Mike Elliott, Eric M. Lang
Publisher: Wiz Kids Games
Requires: Quarriors
You have been selected to compete in the Qladitorial Games!
Quadrennially, Empress Quiana calls together the mightiest Quarriors across the land to compete in the great Quolosseum - will you defeat all other competitors for the greatest Glory?
Features an all-new "Lock" mechanic allowing some Creatures to have long-lasting game effects!
Canadian Content | Deck Construction Variant | Dice Mechanic | Expansion