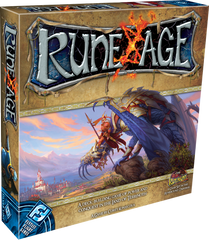 Rune Age
Ages: 13+
Players: 1-4
Playing Time: 60 minutes
Designer: Corey Konieczka
Publisher: Fantasy Flight Games
Rune Age is driven by scenarios, setting the parameters of the game. Each of the four included scenarios presents different objectives for players to construct their decks around, ranging from competitive to fully cooperative. Will you wage war against each other in search of the legendary dragon runes? Or will you pull your forces together and face the deadliest storm Terrinoth has ever seen? The choice is yours.
Gameplay in Rune Age centers around players working to develop their individual deck of cards. At the beginning of the game, each player begins with a small assortment of cards in their deck, drawing five cards each turn to carry out their actions. Each player's deck represents their faction's military strength and capabilities. These decks will be formed with their faction-specific Unit cards and a central collection of Neutral Unit cards, Tactics cards, and Gold cards.
While players begin with limited cards in their deck, through cunning and strategic use of their available cards, players can expand their deck to create a destructive force of their own clever design. Will you create brutal deck of formidable Units? Or will you rely on Gold and Influence to acquire neutral forces and powerful Tactics?
Deck Construction | Fantasy | Fantasy Flight Games | Scenarios