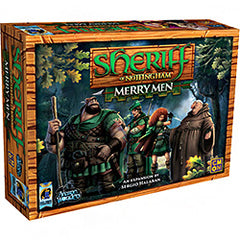 Sheriff of Nottingham Merry Men
Product is currently unavailable. Please email us @ info[at]woodforsheep.ca with Subject: ORDER Sheriff of Nottingham Merry Men and we will notify you once this item becomes available. Request Deposit required.
Ages: 13+
Players: 3-5
Playing Time: 60 minutes
Designer: Sérgio Halaban, Bryan Pope,
André Zatz
Publisher: Arcane Wonders
Requires: Sheriff of Nottingham
Expands your games to six players as you bluff, bribe, and negotiate your goods into Nottingham. Take your contraband to the Black Market, fulfill special orders, and much more!
Bluffing | Bribes | Expansion | Set Collection | Villains