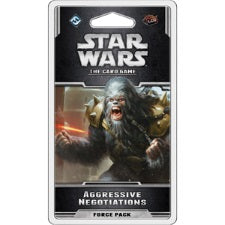 Star Wars: The Card Game Aggressive Negotiations
Product is currently unavailable. Please email us @ info[at]woodforsheep.ca with Subject: ORDER Star Wars: The Card Game Aggressive Negotiations and we will notify you once this item becomes available. Request Deposit required.
Ages: 10+
Players: 2
Playing Time: 45 minutes
Designer: Nate French, Eric Lang
Publisher: Fantasy Flight Games
Requires: Star Wars The Card Game
"Droids aren't meant to do many things, sir. I rarely let that stop me." –Triple Zero
Explore the loose associations between the galaxy's underworld informants and the Imperial Troopers who rely upon their intelligence to crack down on Rebel activities. If any of those Rebels are taken captive, you'll also find jailers and Droids eager to deal with them.
Additionally, light side players can reach out to the Force alongside Chirrut Îmwe and the Wookiees of Kashyyyk, using their talents to avoid dark side opponents eager to hunt them down, take them captive, and extract whatever secrets they may know.
Second Force Pack in the Alliances cycle.
Canadian Content | Combat | Expansion | Sci-fi | Space | Spin-off | Star Wars