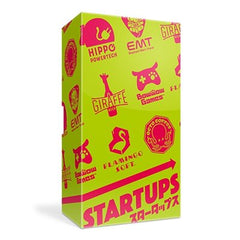 Startups
Product is currently unavailable. Please email us @ info[at]woodforsheep.ca with Subject: ORDER Startups and we will notify you once this item becomes available. Request Deposit required.
Ages: 10+
Players: 3-7
Playing Time: 20 minutes
Designer: Jun Sasaki
Publisher: Oink Games
A set collection card game where each player is investing in startup companies to try and gain the most wealth.
Only the one biggest investor can get money out of each company. You must try to read the next steps of your rivals and use your capital and your three hidden cards to win against them and become the biggest shareholder!