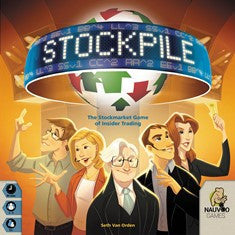 Stockpile
Product is currently unavailable. Please email us @ info[at]woodforsheep.ca with Subject: ORDER Stockpile and we will notify you once this item becomes available. Request Deposit required.
Ages: 13+
Players: 2-5
Playing Time: 45 minutes
Designer: Brett Sobol, Seth Van Orden
Publisher: Nauvoo Games
You know about future stock price changes, but will you be able to act on that knowledge without drawing attention? Invest wisely, manipulate the financial markets, and misdirect your opponents to amass the greatest NET worth!