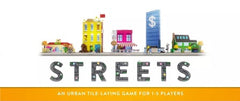 Streets
Product is currently unavailable. Please email us @ info[at]woodforsheep.ca with Subject: ORDER Streets and we will notify you once this item becomes available. Request Deposit required.
Ages: 10+
Players: 1-5
Playing Time: 30-60 minutes
Designer: Haakon Gaarder
Publisher: Sinister Fish
An easy to learn tile laying game where 1-5 players build a city together. Through careful planning and placement, the aim is to make the most money from selling buildings. The city is populated by growing crowds of people (wooden hipster, tourist, shopper, and parent meeples) who increase the value of the buildings they occupy, and move from street to street as they are scored. Locate your buildings carefully and attract the biggest crowds to earn more money than your opponents!
Includes two optional expansion modules which greatly add to the depth of the game. There is also an engaging solo mode where one player must outsmart a challenging AI opponent "The Grifter". Box organisation is taken care of with a drawstring money bag and two storage boxes that double as component trays during the game!
City Building | Set Collection | Tiles | Variable Player Abilities