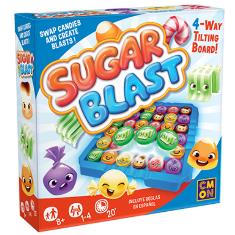 Sugar Blast {C}
Ages: 8+
Players: 1-4
Playing Time: 20 minutes
Designer: Leo Almeida, Matthew O'Malley,
Ben Rosset
Publisher: CMON Limited
Making sweet combinations can be such a blast!
Make connections between Candies of the same color to create Blasts! Swap out two adjacent Candies to make a string of three or more of the same type. Then, remove the matched Candies and adjust the unique tilting board so that Candies slide down to fill in the missing spaces. Finally, fill in Candies at the top from ones chosen randomly from the bag.
The bigger the Blast you create, the more Candies you'll earn.