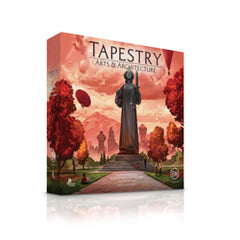 Tapestry Arts & Architecture
Product is currently unavailable. Please email us @ info[at]woodforsheep.ca with Subject: ORDER Tapestry Arts & Architecture and we will notify you once this item becomes available. Request Deposit required.
Ages: 12+
Players: 1-5
Playing Time: 90-120 minutes
Designer: Jamey Stegmaier, Mike Young
Publisher: Stonemaier Games
Requires: Tapestry
Choose from a variety of new capital city mats, a new advancement track featuring new types of cards and tiles, plus more civilizations, tapestry cards, tech cards, and landmark cards.
Expansion | Resource Management | Tiles | Variable Player Abilities