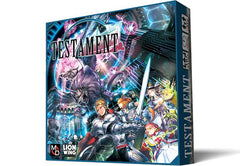 Testament
Product is currently unavailable. Please email us @ info[at]woodforsheep.ca with Subject: ORDER Testament and we will notify you once this item becomes available. Request Deposit required.
Ages: 14+
Players: 1-4
Playing Time: 60 minutes
Designer: Kuro
Publisher: Japanime
Survive the game's deadly foes!
Features tactical combat, challenging boss fights, and deep character customization. Punishing difficulty creates a deep reliance on teamwork.
Anime | Combat | Cooperative | Fantasy