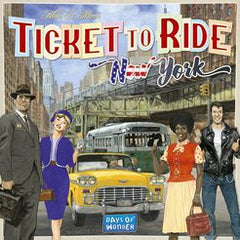 Ticket to Ride New York
Product is currently unavailable. Please email us @ info[at]woodforsheep.ca with Subject: ORDER Ticket to Ride New York and we will notify you once this item becomes available. Request Deposit required.
Ages: 8+
Players: 2-4
Playing Time: 10-15 minutes
Designer: Alan R. Moon
Publisher: Days of Wonder
Welcome to the '60s! Admire the stunning view from the Empire State Building, the world's tallest skyscraper, or take a walk through the magnificent Central Park. Go from Times Square to Brooklyn to do some sightseeing… and enjoy!
In this fast-paced game, players race one another through the busy streets of New York City to visit the most prestigious Tourist Attractions and complete their Destination Tickets.
Learn the game in 3 minutes, play it for hours!
Draft | Network Building | Resource Management | Set Collection