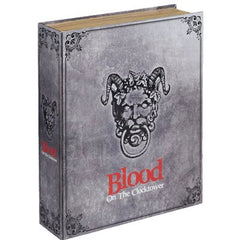 Blood on the Clocktower
Product is currently unavailable. Please email us @ info[at]woodforsheep.ca with Subject: ORDER Blood on the Clocktower and we will notify you once this item becomes available. Request Deposit required.
Ages: 15+
Players: 5-20
Playing Time: 30-120 minutes
Designer: Steven Medway
Publisher: Pandemonium Institute
In the quiet village of Ravenswood Bluff, a demon walks amongst you...
During a hellish thunderstorm, on the stroke of midnight, there echoes a bone-chilling scream. The townsfolk rush to investigate and find the town storyteller murdered, their body impaled on the hands of the clocktower, blood dripping onto the cobblestones below. A Demon is on the loose, murdering by night and disguised in human form by day. Some have scraps of information. Others have abilities that fight the evil or protect the innocent. But the Demon and its evil minions are spreading lies to confuse and breed suspicion. Will the good townsfolk put the puzzle together in time to execute the true demon and save themselves? Or will evil overrun this once peaceful village?
A bluffing game enjoyed by 5 to 20 players on opposing teams of Good and Evil, overseen by a Storyteller player who conducts the action and makes crucial decisions. The goal of the game is to successfully deduce and execute the demons before they outnumber the townfolk.
Big Group | Bluffing | Deduction | Horror | Mafia Variant | Party | Team Play | Voting