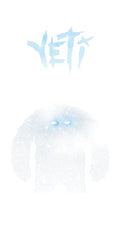 Summit Yeti
Product is currently unavailable. Please email us @ info[at]woodforsheep.ca with Subject: ORDER Summit Yeti and we will notify you once this item becomes available. Request Deposit required.
As if "Summit The Board Game" wasn't deadly enough, the Yeti expansion brings a new level of excitement and distress to your expedition as you, your friends and your rivals are stalked across the frozen landscape by an unrelenting foe.
The Yeti expansion can be used with the base game in any mode of play, competitive, cooperative or solo.
Contains:
- 2 new dual-layer player mats, (Asymmetrical stats & abilities) 
- 16 new cards (2 Items, 7 Events & 7 Karma)
- A marker cube
- A custom Yeti Pawn
- Rulesheet
Adventure | Area Control | Cooperative | Dice Mechanic | Environmental | Exploration | Grid Movement | Press Your Luck | Racing