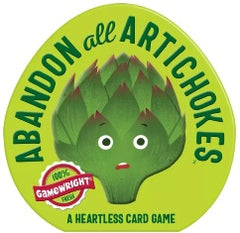 Abandon All Artichokes
Product is currently unavailable. Please email us @ info[at]woodforsheep.ca with Subject: ORDER Abandon All Artichokes and we will notify you once this item becomes available. Request Deposit required.
Ages: 10+
Players: 2-4
Playing Time: 20 minutes
Designer: Emma Larkins
Publisher: Gamewright
This isn't your garden-variety card game! A bumper-crop of prickly produce has overtaken your patch, and there's only one choice: abandon all artichokes! Prune your deck by harvesting fresh vegetables, each with a special power that lets you swap, discard, or compost cards. You'll need luck, strategy, and a green thumb to grow a winning hand!