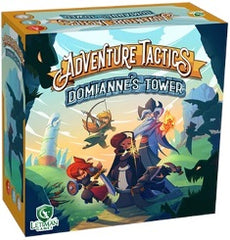 Adventure Tactics Domianne's Tower
Product is currently unavailable. Please email us @ info[at]woodforsheep.ca with Subject: ORDER Adventure Tactics Domianne's Tower and we will notify you once this item becomes available. Request Deposit required.
Ages: 10+
Players: 1-5
Playing Time: 45-90 minutes
Designer: Nicholas Yu
Publisher: Letiman Games
SHARPEN YOUR SWORDS. READY YOUR SPELLS. GATHER YOUR ALLIES.
The ruthless Queen Domianne rules the kingdom of Astelia with an iron fist, but an ancient prophecy has emerged which threatens her reign. The adventure starts in your humble village and eventually leads to the seat of Domianne's power, the peerless and ancient Tower of Greylock.
An encounter-based, campaign-driven, cooperative tactical combat game. Begin your journey as one of 5 Basic Classes and battle your way through a branching campaign where you choose your own path in an attempt to overthrow the evil Queen Domianne. With each encounter, you will level up and unlock over 15 Elite Classes, adding new actions, equipment, and abilities.
Will your team find the right combination of Classes and powers in time to stop Queen Domianne? Let the adventure begin!
Adventure | Campaign | Combat | Cooperative | Fantasy