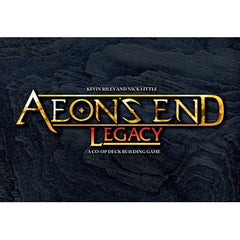 Aeon's End Legacy
Product is currently unavailable. Please email us @ info[at]woodforsheep.ca with Subject: ORDER Aeon's End Legacy and we will notify you once this item becomes available. Request Deposit required.
Ages: 14+
Players: 1-4
Playing Time: 45-90 minutes
Designer: Nick Little, Kevin Riley
Publisher: Indie Boards and Cards
A cooperative deck-building game where players defend Gravehold, the last bastion of humanity. This is a full "campaign", where you'll build your character over multiple "chapters," fighting increasingly powerful nemeses.
At the end of each game, you will choose new upgrades for your character and more powerful player cards to add to the market. At the end of the campaign, you'll have unique characters, new nemeses, new player cards, and new basic nemesis cards that you can play with indefinitely and/or play with all the other released content.
Cooperative | Deck Construction | Draft | Fantasy | Legacy | Sci-fi | Variable Player Abilities