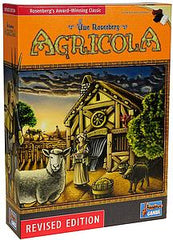 Agricola (2016)
Product is currently unavailable. Please email us @ info[at]woodforsheep.ca with Subject: ORDER Agricola (2016) and we will notify you once this item becomes available. Request Deposit required.
Ages: 12+
Players: 1-4
Playing Time: 30-120 minutes
Designer: Uwe Rosenberg
Publisher: Lookout Games
You are a farmer in a wooden shack with your spouse and little else. On a turn, you get to take only two actions, one for you and one for the spouse, from all the possibilities you'll find on a farm: collecting clay, wood, or stone; building fences; and so on. You might think about having kids in order to get more work accomplished, but first you need to expand your house. And what are you going to feed all the little rugrats?
Features improved, all-wood components and a revised and expanded card deck drawn from the original game and its expansions, all newly updated for this edition.
Farming | Kennerspiel des Jahres Winner | Resource Management | Role/Phase Selection