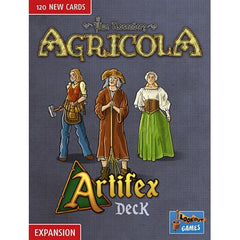 Agricola (2016) Artifex Deck
Product is currently unavailable. Please email us @ info[at]woodforsheep.ca with Subject: ORDER Agricola (2016) Artifex Deck and we will notify you once this item becomes available. Request Deposit required.
Ages: 12+
Players: 1-6
Playing Time: 120 minutes
Designer: Uwe Rosenberg
Publisher: Lookout Games
Requires: Agricola (2016)
Contains 120 occupation and minor improvement cards.