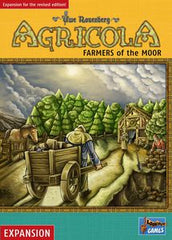 Agricola (2016) Farmers of the Moor
Product is currently unavailable. Please email us @ info[at]woodforsheep.ca with Subject: ORDER Agricola (2016) Farmers of the Moor and we will notify you once this item becomes available. Request Deposit required.
Ages: 12+
Players: 1-5
Playing Time: 120 minutes
Designer: Uwe Rosenberg
Publisher: Lookout Games
Requires: Agricola (2016)
This expansion adds to the base game with a large set of new improvements as well as a number of new features. Horses are introduced as a new type of animal. In addition, you not only have to feed your family, but you must keep them from becoming "ill" by heating each room in your house. You can get fuel to heat your home by chopping down the forests on your farmyard or by harvesting peat.