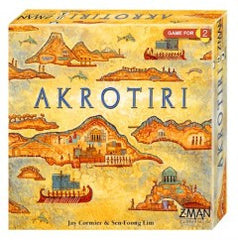 Akrotiri (2017)
Product is currently unavailable. Please email us @ info[at]woodforsheep.ca with Subject: ORDER Akrotiri (2017) and we will notify you once this item becomes available. Request Deposit required.
Ages: 13+
Players: 2
Playing Time: 45 minutes
Designer: Jay Cormier, Sen-Foong Lim
Publisher: Z-Man Games
You are an explorer in Classical Greek times, combing the uncharted Aegean sea for lost Minoan temples that have long ago fallen into ruin. You've not only heard of these temples hidden around the island of Thera, but you actually have access to the secret maps that tell you of their hidden locations! Two mountains to the north? A volcano to the west? This *must* be the spot...
But running an expedition can be costly. In order to fund your voyages into the unknown and excavate the ancient temples, you will have to first ship resources found on surrounding islands back to the resource-poor island of Thera.