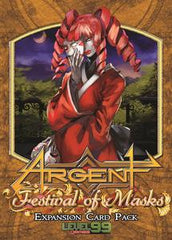 Argent Festival of Masks
Product is currently unavailable. Please email us @ info[at]woodforsheep.ca with Subject: ORDER Argent Festival of Masks and we will notify you once this item becomes available. Request Deposit required.
Ages: 10+
Players: 2-5
Playing Time: 60 minutes
Designer: Trey Chambers
Publisher: Level 99
Requires: Argent The Consortium
Masks provide continuous benefits for an entire round of play, much like some Bell Tower Cards, but the round doesn't end when they're all taken, and you can only have one. Use these masks as the engine for your key strategies, to reduce costs, improve efficiency, and harass opponents.
Area Control | Expansion | Role/Phase Selection | Time/Turn Limit | Variable Player Abilities