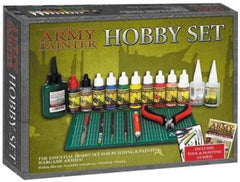 Army Painter Hobby Set
Product is currently unavailable. Please email us @ info[at]woodforsheep.ca with Subject: ORDER Army Painter Hobby Set and we will notify you once this item becomes available. Request Deposit required.
This exceptional wargaming Hobby Set has everything you need to start your next miniature Project!
Includes: 10 Warpaints, 3 hobby brushes, 1 knife, 1 file, 1 precision side cutter, 1 cutting mat and all 3 glues.