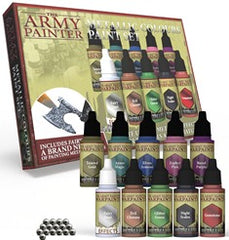 Army Painter Metallic Colours Paint Set
Product is currently unavailable. Please email us @ info[at]woodforsheep.ca with Subject: ORDER Army Painter Metallic Colours Paint Set and we will notify you once this item becomes available. Request Deposit required.
Want to paint magical armour, alien weaponry, or tainted treasure? Or perhaps the glistening, draconic hide of fantastic beasts? This paint set has you covered! Along with a wide array of metallic colours, also included is the brand new Metallic Effects paint - Fairy Dust. With this new paint, turn any paint into a vibrantly shimmering metallic with a single coat. Paints come in spill-proof 18 ml./ 0.6 fl. oz. dropper bottles - perfect for both wet palettes and airbrushing. Non-toxic, water-based paints have a creamy viscosity making it ideal for miniature painting, and they mix smoothly with each other to create any combination of colors that you dream up!